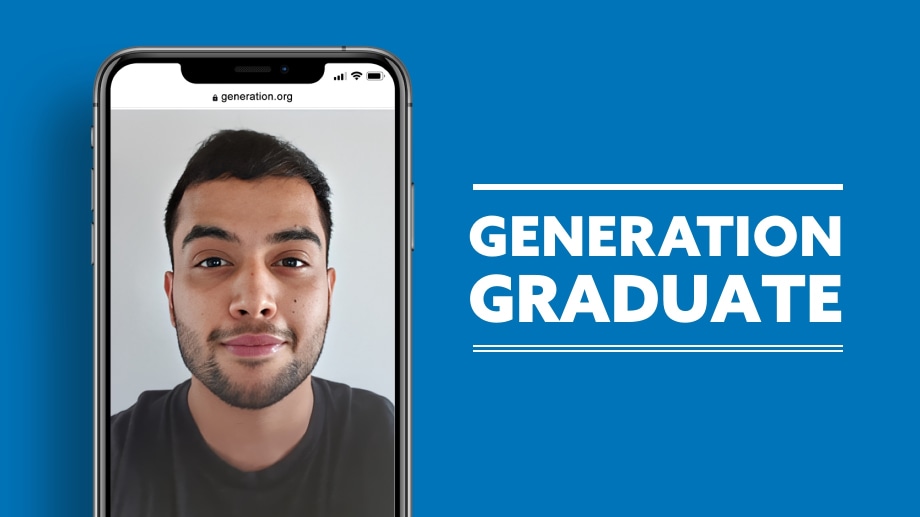 Devashish's story: Tech Talent Accelerator program
Devashish was studying psychology at university when he realised he was not really passionate about pursuing a career in the subject. He dropped out of university, took a job as a prison officer, and researched different areas of the tech industry in his spare time. Software engineering intrigued him the most, so he began taking online courses in HTML and CSS. Eventually, as he was looking for a professional mentor, he found the Tech Talent Accelerator program with Generation.
NEW DIRECTIONS
Devashish was quick to see his perspective change and skills develop as soon as the Generation program started. He enjoyed the first module, which focused on mindsets and behavioural skills, giving him more positivity and confidence. Another highlight was having a mentor who checked in on his progress, mental health, financial issues, and general well-being on a regular basis. After having so much uncertainty with dropping out of university, Devashish was finally seeing how resilient and driven he could be when he's enthusiastic and passionate about the subject.
JavaScript was a bit intimidating at first, but it soon became his favourite coding language. He learned how to solve problems working backwards, do coding research, and work independently. Each day he had a new feeling of accomplishment, the "I did it!" feeling.
INTERVIEWS & PLACEMENT
With structured support from Multiverse in his interview preparation, he applied to various apprenticeships. He had several intense days of technical interviews, but he felt he had the experience and knowledge to get through them because of his experience on the programme preparing for these with Generation. He has accepted a position at Unilever as a software engineer apprentice. He will be working on an agile team identifying and troubleshooting bugs before he transitions to testing and fixing.