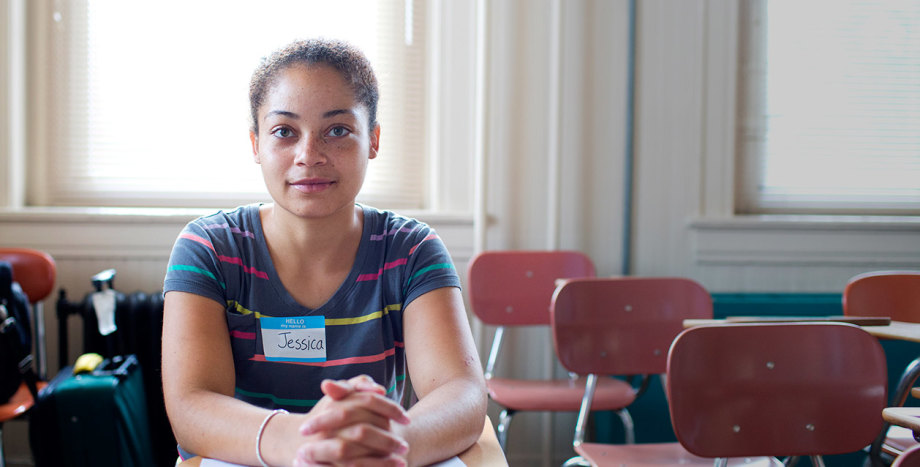 Jessica | USA
In late 2014, Jessica was working full-time at a daycare center in Pittsburgh and making minimum wage. Although she enjoyed the care-taking elements of working with children, Jessica had hoped to enter the healthcare field for quite some time. The daycare was understaffed and she often had to take on evening shifts. As a single mother, Jessica typically had to care for her children at work after school. She remembered, "I never got off on time and the kids were with me. We were walking downtown at night at 10pm and they hadn't slept and we were so tired." As soon as Jessica heard about Generation's Certified Nursing Assistant (CNA) program in Pittsburgh, she eagerly applied for the opportunity and was selected.
Jessica's time in Generation was transformative, both in terms of the technical healthcare skills she acquired and the personal growth she experienced. As Jessica recalls, "My teacher went above and beyond teaching us the knowledge we need to know for being a CNA, but she also taught me life skills."
In less than a month after graduation, Jessica was hired at the University of Pittsburgh Medical Center (UPMC) as a CNA. At UPMC, Jessica's superior technical skills and kind demeanor quickly stood out to patients and hospital staff. Jessica credits many of those noticeable distinctions to her Generation training. "I see small, tiny differences that the patients really love because of Generation. They are just tiny things as simple as how to bathe and transfer a patient the right way."
Jessica has received consistent recognition for her care and empathetic manner. In fact, "My Unit Director gets letters all the time from my patients." Even the President of UPMC noticed Jessica's successes. "He told me that I was going above and beyond and invited me to a breakfast and that was wonderful," she said. "UPMC gave us a thank you ceremony and a fancy breakfast and that was really great." Due to her hard work, Jessica can add another accomplishment to her list of accolades: She has advanced to the role of Patient Care Technician.
Employment at a fast-paced hospital like UPMC is challenging for a single mother. Jessica works 12 hour shifts and needs to carefully watch her finances to manage expenses. However, after only six months working as a CNA, Jessica's financial future is distinctly brighter than before Generation. "I'm not living paycheck to paycheck anymore," she said. At UPMC she makes about $4 an hour above minimum wage. "I can do more things now with my children than I could before and we've done some fun activities together as a family. Also, this is my first job with paid vacation. I hadn't even been at UPMC for a year but I got 15 paid days off so we took a vacation."
Providing a better life for her children and receiving a constant stream of patient and staff recognition is certainly motivating and fulfilling for Jessica. But perhaps most inspiring of all is Jessica's feeling of positively impacting a patient's life when they are most in need. "I like the patients. I've gotten so many compliments and letters and thank yous and it just makes me feel like I'm doing something really well. It makes me happy how much I've helped someone."