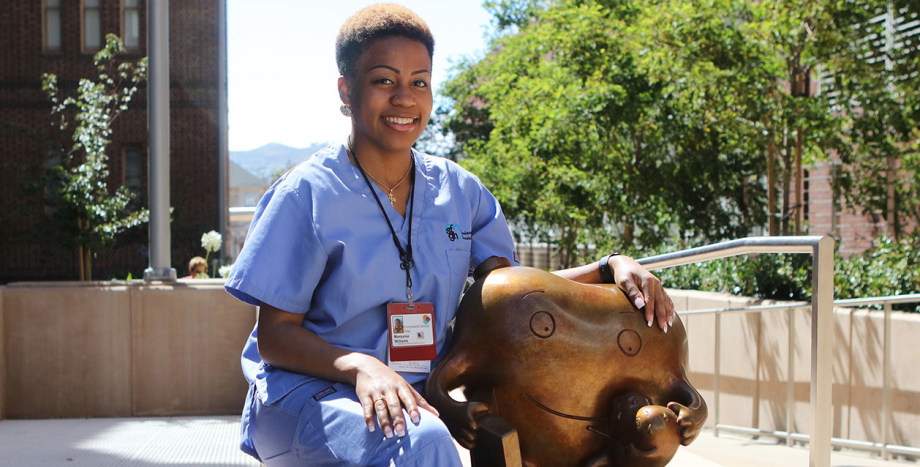 Kisa | USA
Kisa se integró al programa de Servicio al Cliente en San Francisco en 2016. Después de su graduación obtuvo un empleo como portera (recepcionista) en Zuckerberg San Francisco General Hospital and Trauma Center.
Amor en medio de la locura
Kisa proviene de Bayview-Hunter's Point, un barrio duro que ha sido descrito como "el San Francisco que Estados Unidos pretende no existe". Como dice Kisa "Crecí en medio de mucha locura". Pero el amor y la guía de sus padres la pusieron en el camino correcto. "Mi familia ha sido un gran sistema de soporte, siempre motivándome a seguir adelante. Mi padre me enseñó a ser organizada y me puso a pensar en las cosas más profundas de la vida".
¿Por qué no mirar más alto?
Kisa fue y encontró un empleo tan pronto como dejó la escuela – y encontró otro para trabajar en sus días libres. Circulaba a través de varios de esos empelos. "Tenía 30 diferentes empleos. Era muy difícil y mis días eran siempre largos y ocupados". Luego un gerente de Goodwill San Francisco le sugirió aplicar a Generation, como un camino para obtener crecimiento de carrera y estabilidad. "Dije, ya tengo mucho en mi currículo, pero ¿por qué no mirar más arriba?".
Aumentando mi confianza, construyendo mis habilidades
Generation sorprendió a Kisa. "Yo esperaba sentarme y escuchar a las clases – pero Generation se trató de practicar situaciones reales en juegos de rol". Kisa aprendió como lidiar profesionalmente con un cliente molesto y no dejar que eso cambiara su humor. También practicó entrevistas e interacciones en el campo laboral. "Generation me ayudó a aumentar mis ambiciones, y me dio la confianza de entrar en un lugar de trabajo sabiendo 'puedo obtener este empleo'
Puedo verme progresando
Después de graduarse de Generation, Kisa aplicó para ingresar al Zuckerberg San Francisco General Hospital and Trauma Center. El entrevistador le dijo "¡Parece que eres la dueña del empleo!" A unos meses de comenzar su rol, se deleita en sacar una sonrisa a los pacientes, y reporta que sus horas, paga y beneficios han mejorado. "La paga es realmente buena, y ¡acabo de tener mi primer aumento!" Continúa mirando más alto: "Puedo verme progresando aquí — quiero ser supervisora algún día. I estoy ahorrando para comprar mi propio apartamento".