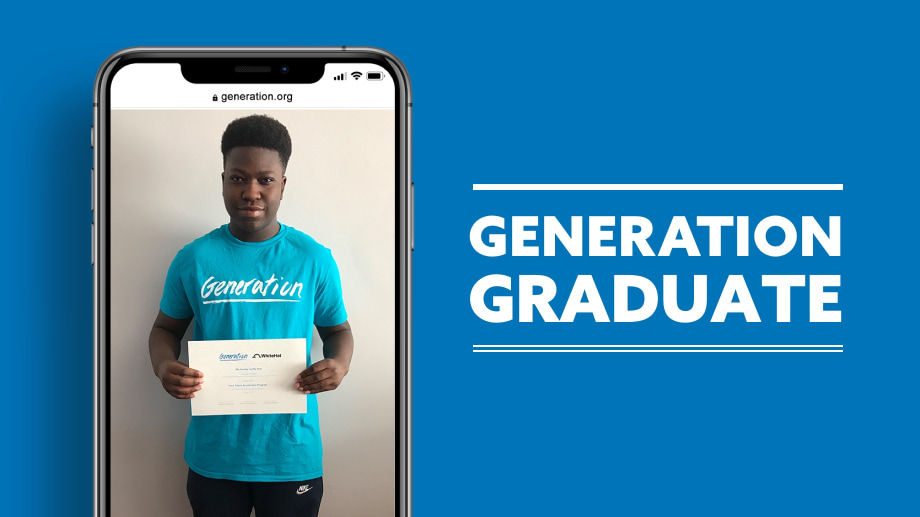 Odaine's story: Tech Talent Accelerator program
Before Generation, Odaine completed 6th form with an L3 extended diploma in HTML, CSS, and JavaScript. After leaving college, he was unemployed, spending his time applying for numerous apprenticeships. After repeated rejections he was, naturally, feeling very discouraged– it appeared he needed to already have experience to get experience, which is a barrier many young people face getting into the job market. Finally, a family member referred him to Generation.
WHY GENERATION WORKED FOR HIM
He loved that the Generation staff built up his confidence and made the class feel like a real workplace. The role-playing exercises prepared him for day 1 on the job. His instructor was not only knowledgeable but funny and approachable.
Additionally, Odaine felt so energized and motivated that he kept working outside the classroom hours, to build up his project portfolio. He had a great relationship with his mentor, Jide, who helped him manage stress and work on his soft skills. The 'Future Orientation' training module helped him think coherently about his goals and what steps he would take to get there.
FAVOURITE TECH SKILL
Odaine's preferred coding language is JavaScript, and he was happy to go deeper into the language during the Tech Accelerator program. He remembers learning the DOM manipulation for the first time, which allows you to add functionality directly into to your HTML. DOM manipulation was challenging for him at first, but eventually mastered it with hands-on support from the instructors.
GOING FORWARD WITH SUPPORT
Odaine has been doing CV and interview workshops and feels supported by Generation, his mentor, and Multiverse. He has several interviews lined up in the near future.