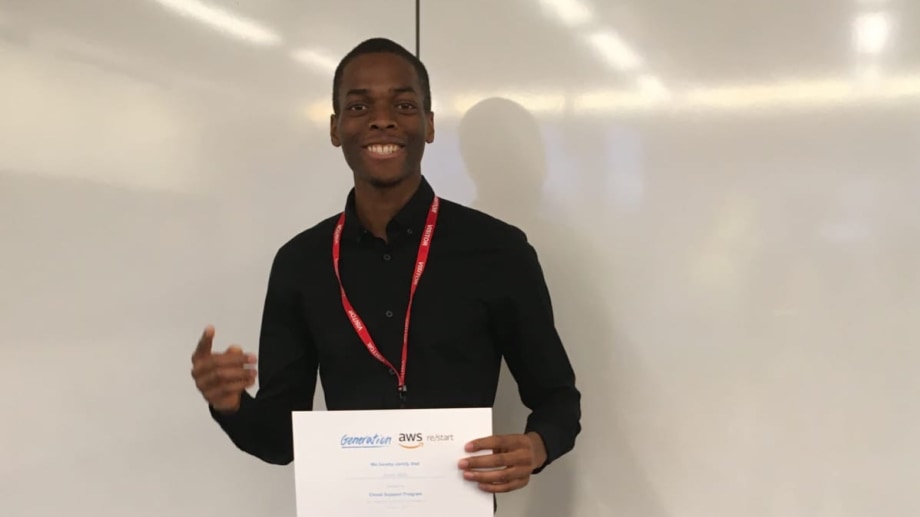 Aaron's Story: Generation – AWS re/Start Program 2020
Bolstering a liberal arts background with IT skills is always a good idea. He had previously struggled to find a job, and now he has a promising career in IT as a Junior Infrastructure Engineer. Moreover, he was able to combine his interests in the arts and technology by securing an engineering role at The Royal Opera House.
From Undecided to Unstoppable
Like many young people, Aaron was unsure of what career path to pursue, and that caused him to shift his studies from geography to business to media, and back to geography during college (the two-year period of study in the UK after age 16). He always enjoyed STEM subjects, but simultaneously felt a pull towards the arts.
After college, he went straight to the workforce to pay the bills. He worked odd jobs and looked for courses to get himself centered on a specific career path. He planned to begin a mathematics degree at Open University, but serendipitously found the AWS re/Start course offered in collaboration with Generation and decided to focus his efforts there.
"I wanted to join the program because Generation was offering something unbelievable to me at the time," he says. "They were willing to take inexperienced and underemployed young people and give them a chance of a lifetime to launch a career in a booming industry. From the get-go, Generation gave me confidence that it was the right path for me to take. And I was so right!"
Launching a Career in IT & Cybersecurity
Aaron found the program equal parts challenging and rewarding. It was the first time he was exposed to IT concepts & coding, so there was a steep learning curve, but he found it fascinating because each concept helped him understand how the world works in a deeper way. IT is the backbone of every industry & business, so the real-world applications of his lessons continued to pile up. This was the biggest difference with his previous studies, which hadn't prepared him for a specific role.
He graduated in 12 weeks feeling confident in his new technical & behavioral skills. Along the way, Aaron even discovered the area of IT he wants to specialize in: Infrastructure & Cybersecurity. At his new position, he is able to further hone his skills in these areas and has quickly become an essential part of the team.
Enjoying A Life with Financial Security
In addition to immensely improving his self-esteem and feeling like he is making a positive contribution to the world, Aaron has enjoyed his new life and the financial freedoms that come with it.
"My life has changed a huge amount due to my newfound employment!" he says. "I've been able to reconnect with friends and enjoy the nightlife of London again. I've got myself a gym membership at my local David Lloyd's club, and I definitely couldn't afford that before. I've also been able to pursue new hobbies and interests of mine. I'm a keen martial artist, and I'm finally able to afford to practice consistently which has been awesome, and has hugely enriched my life."
Looking back and looking forward
"It's beautiful to see how everything has come full circle. This was published on the one year anniversary of receiving my Get Into Tech offer. I hope my story encourages others to apply to a Generation programme and change their lives as well."