Generation UK & Aire Logic 'Open Day' | Yorkshire
March 3, 2022 @ 11:30 am

-

3:30 pm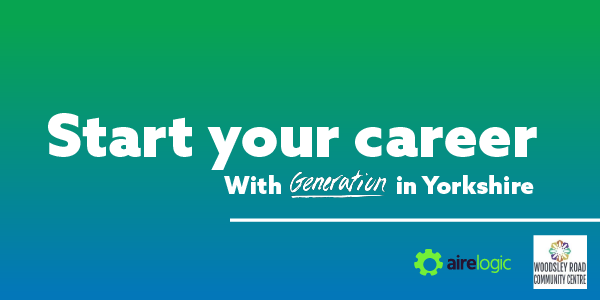 The Generation in Yorkshire team are thrilled to be joining with employer partner, Aire Logic Limited, and Woodsley Community Centre to welcome to you to a Generation UK & Ireland Yorkshire 'Open Day'. Join us anytime between 11.30am – 3.30pm on Thursday 3 March at the Community Centre (just opposite Leeds Grand Mosque in LS3) to find out more about how you can start your career in tech/healthcare and green industries through FREE training bootcamps.
What's happening?
Software Developers from Aire Logic will be on-hand to chat about how to get started with a career in tech and we'll also have a Generation graduate (now employed by Aire Logic) to talk you through their experience. The Leeds Generation team will be available to explain the process, answer any questions and help you get started with your applications. Homemade snacks will be available for attendees as well as goody bags from the good folks at Aire Logic!
Who is this event for?
If you are currently unemployed, not in education or training and live in West Yorkshire, come along to find out how we can help open doors into fulfilling careers in roles such as IT Support Technicians, Data Analysts, AWS Cloud Practitioners, Retrofit Advisors (in the Green sector) and Health Care Support Workers. You don't need any previous experience or qualifications – just a passion to learn new skills and secure full-time employment with a decent salary If you'd like to attend please email leedsteam@generation.org or just let us know if you have any questions (and feel free to share with any contacts who might like to get involved!) 
Who are Generation UK & Ireland?
Generation is a global social enterprise that trains, supports and places people into life changing roles (that are otherwise inaccessible to them) while providing employers with the highly skilled and motivated talent they need. We are growing at scale and have so far helped 50,000 people into work. Generation UK was set up as a UK Charity in 2019 and launched in Yorkshire (Leeds) last year.
Generation delivers programmes which:
a)Provide organisations with a passionate, highly motivated, and most importantly, trained talent pipeline of diverse people
b)Provide people with life changing career opportunities in their chosen sector. These people are unemployed and have faced barriers to desirable employment, yet have the motivation and intrinsics to succeed (recent cohorts have been 100% unemployed, >50% women, >80% ethnic minority, >40% previously FSM eligible).
The training is completely free, with guaranteed interviews with employers for successful learners on completion of the programme. We can support learners with access to IT equipment (such as laptops and Wi-Fi dongles) and a workspace, and all learners are paired with a mentor to support them throughout the training.
We provide a range of high quality 3–12-week programmes that teach the key skills required to succeed in that industry, but also the behaviours and mindsets needed to be successful for roles such as Cloud Support Practitioners, Customer and IT Support Technicians, Data Engineers, Data Analysts and Software Developers etc. Generation in Yorkshire are also running Health and Care programmes and Green programmes focussed on sustainability roles. We have a national 'Career Support' programme specifically tailored to support jobseekers with sessions to develop their employability skills (like CV writing and job applications) and a high job placement rate at 85%/retention rate of >90% within 6 months.