Generation's Response to COVID-19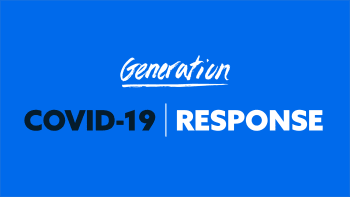 Updated as of March 16th
One of our core values as an organization is that we "go further, together", and it could not be more true of our global community in light of the COVID-19 pandemic. Like everyone around the world, we have been following the outbreak very closely, and we will post ongoing updates on this page as needed.
Our first priority is the safety of our employees, learners, partners, and communities. Each of our Generation countries is working closely with local partners and the guidance of local health authorities to implement an appropriate approach for their teams and programs.
This has included actions such as stopping all in-person classes in nearly all of our countries.
Please watch our country websites for information about their responses and contact them locally with questions. You can visit them through the "locations" drop down menu at the top right of this web page.
Where possible, we are moving course content online so it can be completed remotely and we are carefully monitoring the shifts in hiring patterns due to the COVID-19 outbreak so that we can align our existing and new programs to match job availabilities.
This is an unprecedented situation for all of you and all of us. We truly do go further together, and we are glad you are part of our Generation community. We wish all of you and your loved ones continued health and safety as we face this challenge as a global community.
Any questions at all, please reach out to us at info@generation.org.