Free training opportunities
in Scotland
Breaking down barriers to employment in Scotland
Unemployment rates in Scotland are rising, and with the additional challenges brought on by the global pandemic, many young people are being left without employment or education options due to no fault of their own.
This gets even harder for people who are already facing barriers to employment.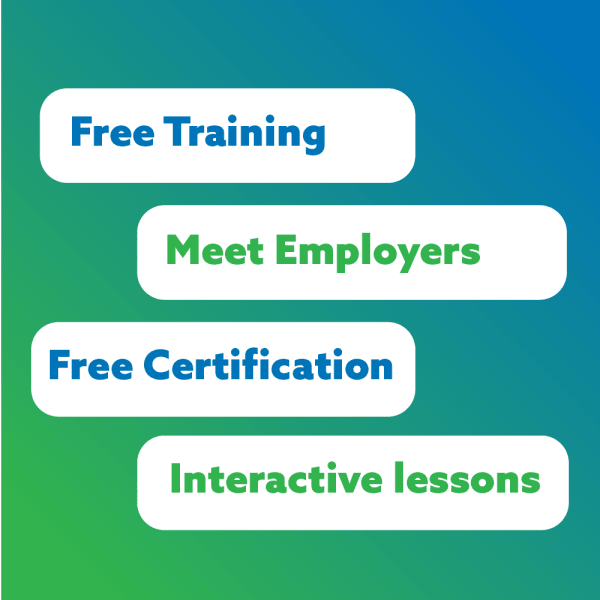 Our mission is to help people into meaningful careers that would otherwise be inaccessible
We do this through free bootcamps conducted in a live Zoom classroom with plenty of practical sessions and group projects. Our bootcamps also include 1-1 mentorship support, soft-skill training such as interview practice sessions and C.V workshops, and behaviour & mindset training sessions to help them thrive once they find employment.
We also offer:
• Laptops and wifi connections for free when needed to complete the course
• Introductions with hiring employers immediately after the course
• Free professional certifications
Graduation rate
97%
We identify young people who have the motivation to launch their career, and dedicated mentors work with them to ensure they complete the programme successfully
Employment
80%
Job placement within 3 months of graduation
Quality talent
84%
of our employers say that Generation graduates perform better than average
Eligibility Criteria
Applicants must meet the following and provide proof to support this information:
Aged 18-29 years
Have the Right to Work in the UK
Not in Education, Training or full time employment
Must not possess a completed university degree
Must live within Scotland and a reasonable travel distance to Glasgow or Edinburgh
Must be available Monday–Friday 9am to 5pm to engage with training as well as be prepared to progress into employment after full completion of the course.
Can demonstrate your interest in a career in technology
Upcoming courses in Scotland
Common questions
HOW CAN I REFER SOMEONE TO A COURSE?
Do you work with people who are unemployed and seeking work? Or have friends who might be eligible for Generation courses?
We'll be in touch soon with all the information you need to work with us
DO I NEED A DEGREE TO APPLY?
We understand that not everyone has had the same access to education. Generation courses don't judge applicants on their educational or working background. Instead, we'll make our selections based on motivation and transferable skills, such as problem solving. If you have those — we can teach the rest!
OUR SUPPORT
During the course, you will be guided by a full-time experienced instructor, and receive additional support through 1-1 mentorship sessions with a qualified mentor. Additionally, you will be surrounded by a class of 20-25 peers (currently online, via zoom) who want to see you succeed — and who will later become your professional network. We will work with you to make sure that the course pace, content, future planning, and working environment is suitable for you — and help you with additional challenges, such as managing your finances and building your confidence for interviews.
FINANCIAL SUPPORT
We work closely with Jobcenters to make sure that Universal Credit or other benefits you were previously receiving will continue for the full course duration. We can also provide laptops and other equipment for free when needed to complete the course. Please get in touch if you have any concerns about applying to our courses, and we will try our best to meet your needs: scotlandteam@generation.org 
Want to apply to a course?
If you are interested in applying to a free course in Scotland, subscribe to our newsletter below and we'll make sure to update you on when you can apply.
Partner with us
If you work with people who might be interested in learning with Generation, get in touch using the contact form below and we'll send you more info via email on our courses!