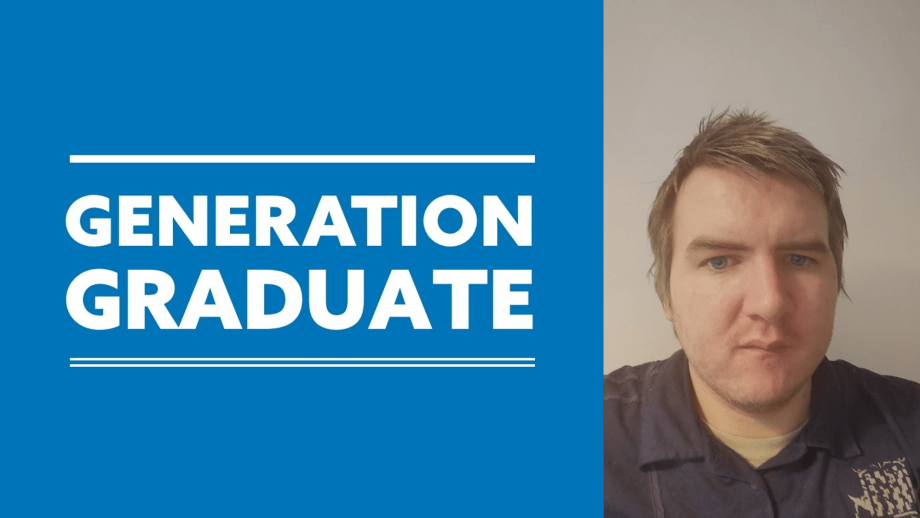 Mark's Journey into Tech
Testimonial by Mark aged 28 from Wolverhampton. Completed AWS re/Start (Get into Tech) Programme with Generation, Summer 2020
MY STARTING POINT
Before Generation I was unemployed for almost 2 years and was looking for work, somewhat unsuccessfully. I wasn't thinking too optimistically about my future, as I wanted employment in the IT sector but  couldn't find opportunities that were open to me. After trying hard to get into tech, I was starting to look for less desirable jobs in different sectors that were easier to get into… and that's when my Jobcentre work coach told me about the  12-week AWS re/Start Cloud Practitioner bootcamp with Generation.
My first impression of Generation was at the taster day held at the Prince's Trust offices in Birmingham, it seems like forever ago, pre-corona, pre-lockdowns! The staff were very friendly, and I was very impressed by the presentations that were shown to us by professionals in the industry. I specifically remember an AWS Architect who shared some simple but fun activities to get us thinking about the technology.
THE AWS RE/START BOOTCAMP WITH GENERATION
Generation helped me improve my ability to communicate with others by connecting us with personal mentors (who are from the Prince's Trust) and they provide bespoke feedback and assistance. Through consistent sessions the Prince's Trust mentor helped address and improve any specific issues over the 12 weeks without any judgement.  The mentor sessions were a helpful and safe environment.
During the course we would regularly work together in groups, allowing us to get better at helping and assisting each other as a team. As a cohort we would assist each other if we got stuck and we even had extra study sessions on Sunday (virtually of course) to help fellow classmates catch up.
Attending class each weekday helped me establish a healthy schedule; I made sure I had allocated myself enough time to be able to revise and study to keep up with content we were learning. When unemployed I found it easy to let that healthy schedule slip, but this programme being 9am-5pm Monday to Friday helped me prepare for work life.
The AWS re/Start  bootcamp through Generation helped me to improve my confidence, professionalism and motivation. It helped me set targets and goals that are reasonable, as well as unlocking my potential to achieve them. I feel much more confident in being able to acknowledge and ask for help now.
LIFE AFTER GENERATION
I will be starting as a Junior Cloud Engineer for an award-winning Investment Platform in February 2021.  I will spend my first 3 months shadowing the current tech teams, learning about the internal departments and how they interact with each other. It will be important for me to learn the internal procedures and bespoke software and tools they use.
I have been given the opportunity to take the AWS Solutions Architect Associate certification, so during those first few months I'll be studying to pass that exam too. After those initial 3 months, I will be assigned a client to work with over a 3-month interval with the objective to solidify a direction I would like to choose in Cloud (since it is a huge field with many different pathways you can take).
This career starting job opportunity was entirely driven by Generation! The employer team shared the vacancy information with me and provided feedback for me between the interviews so I could implement the feedback and improve at each stage of the recruitment process. My interview and communication skills had improved immensely due to the behavioural Skills and employability support developed as part of the AWS re/Start Bootcamp with Generation.
A BRIGHT FUTURE  
Since the AWS re/Start programme with Generation I am feeling significantly better about my future. I now have  a clear career plan for the next year, which I will be able to work on with my new employer. I'm getting to work in an industry I love, rather than just having to take any job out of desperation. The future looks great and I can't wait to see where I will be in a few years' time.
If I had to sum Generation up in 3 words, I'd say, Motivating, Life-changing & Inspiring. Life-changing is probably an overused word, but I think Generation truly does deserve it. I have gone from almost giving up on the career I wanted to do…to having the doors of the entire industry open to me.
MY ADVICE TO YOU
Be yourself. Generation are most interested in mindset and your potential rather than your current capabilities. There were plenty of learners in my cohort who had never worked in tech before and are now able to go and find a career in tech thanks to the Generation Bootcamp, it's all about having a positive and healthy approach to the programme.
IF YOU WANT TO START YOUR CAREER WITH GENERATION'S SUPPORT, VISIT UK.GENERATION.ORG TO FIND OUT WHAT PROGRAMMES WE OFFER IN YOUR CITY.